Audio tape to CD conversion and archiving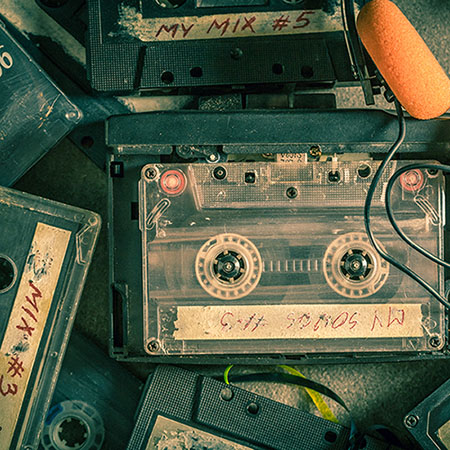 Backup your treasured cassettes or mix tapes onto an audio CD
We can provide you with a high quality audio conversion of your compact cassette tapes to CD to allow you to help archive and protect precious memories or tapes that you can no longer listen to. We use a high quality setup to provide you with two master CDs for your cassette tape A side and B side. Even if the cassette is in a fragile condition, we can normally fix and mend any broken tape with only a brief interruption to your audio, however in nearly all cases we have no problems at all with the conversion and will return your master tape with the CD copies.
We charge £25+VAT for the first tape and then £20+VAT for any subsequent tapes that can then be processed and delivered at the same time. UK mainland delivery is charged at £7.95+VAT.
Please note: We can only convert personal recordings. We can't convert anything that has been commercially produced as these are protected by copyright laws.
We can copy from all types of stereo cassette tape, including ferric, chrome and metal tape types.
Simply send us your cassette tapes(s) to the address below with a covering note that includes your name, return address, telephone number and email address and we will make the conversion for you and send you an invoice for the order.
If you wish to contact us regarding a cassette tape to CD conversion then please use:
If you would like further information about any of our products, then please use any of the following means and we will respond as quickly as possible:
Telephone: 01489 872987
Address: Keppel K1, Daedalus Park, Lee-on-the-Solent, Hampshire, PO13 9FX
Enquiry form: